---
Bird's-eye-view
of the response process
---
Intake
RECEIPT
New requests come in via a registered agent feed, internal email to the system, or manual entry.
ROUTING
From an "Unassigned" list, each request is assigned to an owner and routed for routine or escalated handling.
Preparation
MANAGEMENT
Requests, key details, status, and deadlines are all tracked in one place.
RESPONSE
Owners upload responsive documents and use templates to send standard correspondence.
Delivery
NOTICE
When the response is ready, Safari generates unique login credentials and sends them to the issuer.
DOWNLOAD
Issuer uses the credentials to log in to the SecureShare™ Portal to download responsive documents.
Cost Recovery
INVOICING
The request owner selects a pre-configured or custom invoice and records any prepayment.
PAYMENT
Safari presents the invoice and collects online payment when the issuer downloads the response.
---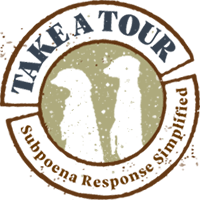 ---
Streamline internal routing
Use an internal email address to send requests directly into Safari
Assign owners
Review requests as they appear, assign staff and route, and escalate as needed
Direct Feed from registered agent
Receive documents and populate data with a feed from your registered agent
---
Centralize work
Capture all request details and gather responsive documents in one system
Track progress
Record progress notes and track deadlines, status, and workflow
Automate correspondence
Send standard communications directly, with variables pulled from the system
View files inline
Review request files alongside corresponding meta data fields
Image files
Convert documents to pdf format within an online viewer
Build a template library
Use templates to create documents populated by fielded data
---
Simplify delivery
Use a built-in workflow to set recipients, delivery method, notifications, etc.
Deliver via SecureShare™
Make responses available instantly (and at no cost) with the integrated portal
Monitor receipt
Track issuer activity, including who downloaded what documents when
Deliver to Government & Law Firms
Issuers of all types, including governments and law enforcement agencies, have fully embraced Safari's SecureShare portal to receive documents responsive to subpoenas and other information requests. In fact, 46% of all response deliveries are to governmental entities, including the DOJ, FBI, SEC, IRS, and various state and local entities. All issuers need is a web browser and a connection to the Internet—SecureShare is that easy.
---
Preconfigure invoices
Create standardized invoices and line items for common requests
Create on-off invoices
Upload or input custom invoice amounts and descriptions for one-offs
Collect online payments
Issuer pays via credit card paywall simultaneously with response delivery
---
Run reports
View preconfigured or custom reports and charts
View activity
Capture every action taken in the system
Limit access
Restrict certain requests and actions to specified users
---
Compliance
Meets highest industry standards such as HIPAA, GLBA, and 23 NYRR Part 500
Auditing
SOC 2 compliant verified by an independent auditor annually
Encryption
All client data encrypted at rest (AES-256 bit) & in transmission (SSL-TLS 1.2)
---
"Everything goes much smoother and more quickly. I don't have to manually tag every document, which was a hassle. Overall, we save at least 30 minutes per subpoena and as much as 45 minutes. "
ASHLEY EWING
Research Specialist
FMB
"I was shocked at how simple it is to set up. I've managed other implementations and they were like pulling teeth. Safari is very user-friendly, and we were up and running with a few phone calls. ""
CIARA COLEMAN
Litigation Counsel
J.B. Hunt