CASE STUDY
How a large employer reduced the burden of responding to subpoenas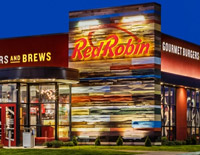 For a company in a high-turnover industry, a lot of employees means a lot of subpoenas and records requests. Legal ops teams find a way to respond, but the process is usually clunky and takes up too much time and money. When their Legal Tracker salesperson recommended Safari SOP, Red Robin decided to look into how they could do better.
THE CHALLENGE
Manual response with limited resources
---
With a small legal team, Red Robin always looks for efficiencies, and subpoena responses were taking up too much time. The company receives subpoenas via registered agent, mail, fax, and service at restaurants —which complicates intake and routing. Oversight presented another challenge: without a shared system, managers had no simple way to either see the team's overall workload or check on a specific response.
For individual team members, every step was manual, including drafting routine correspondence and declarations. Doing their work and tracking it also duplicated effort, as they recorded progress in spreadsheets, stored response documents in network drive folders, and kept paper copies of productions. For each response, they prepped and shipped a FedEx package. They focused on getting accurate responses out the door, with no time to invoice and pursue cost recovery.
CLIENT PROFILE
Red Robin International
---

HEADQUARTERS
Denver, Colorado
EMPLOYEES
23,000
OLD PROCESS
Tracked with spreadsheets
OLD DELIVERY
Email or FedEx package
OLD INVOICING
none
"Prior to Safari, responding to subpoenas took a lot of effort, and we knew we were leaving money on the table."
Christina Santangelo
Litigation Manager, Red Robin
Safari SOP
SOP Response Simplified
© Safari SOP

All Rights Reserved
Safari SOP
How Red Robin took control and cut unnecessary work
"As a large employer with a small legal team, we need to punch above our weight. With the pivot to a mostly remote work environment, paper-based processes and makeshift systems are more inefficient and dangerous than ever. Safari is addressing our specific needs, not just at the GC level, but more importantly at the team's level. It makes their life easier."
Michael Kaplan
Chief Legal Officer, Red Robin
THE SOLUTION
Replace manual processes with Safari
Using Safari to automate work they used to do manually, is saving Red Robin significant time and effort.
CENTRALIZED SYSTEM
Red Robin now tracks all key details in a single system. They store correspondence and response docs in the same system, with no need to keep separate copies.
Safari's workflow simplifies internal communication, QA, and legal review.
Safari captures all actions taken, so there's no need to separately record status or progress.
AUTOMATED CORRESPENDENCE
Red Robin auto-generates standard email messages to issuers (for example, acknowledging receipt and estimating fees to respond).
Forms (for example, custodian declarations) are now stored as templates and auto-populated in Safari.
INTEGRATED ONLINE DELIVERY
Instead of shipping responses, Red Robin uses Safari's built-in portal. The system sends login credentials to the issuer and makes responsive documents available for download.
RECOVERING COSTS
With guidance from Safari data about other companies' response fees, Red Robin developed a cost recovery policy and fee schedule.
Using Safari's automated invoicing and collection, they now average over $100 recovered per subpoena.
"Safari is saving us about 30-60 minutes per subpoena. The template feature is so intuitive. I pick which letter we want to send, and it sends!"
Christina Santangelo
Litigation Manager, Red Robin
CONCLUSION
Safari SOP makes it possible
Safari is the first system designed specifically to meet the challenges of routine information requests. It's a simple-to-deploy alternative that is providing quantifiable benefits to customers. In fact, Safari might be your law department's easiest opportunity for process improvement.
Safari SOP
SOP Response Simplified
© Safari SOP

All Rights Reserved